Concept
Health Promotion of the children responsible for the future
Educational enlightenment of historic tea culture
Healthy development of local products and tea farmers
Delicious and safe fresh cold green tea any time you want
Hygiene control by simple cleaning and management
Ingredients are only green tea leaves and water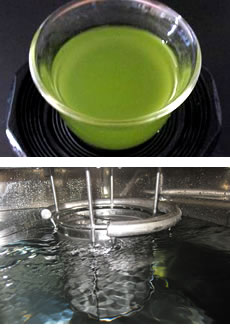 Please look at this color. It is a similar tint like young leaves. Nothing added such as maccha powder for coloring nor vitamin C for preservative. You might feel even a sweet taste remaining in the mouth after drinking. Only 100% green tea powder and water.
Different from normal tea supply machines, you can drink the whole tea leaves in raw without heating.
We use ichibancha (first picked tea leaves), nibancha (second picked tea leaves) and shutobancha (tea leaves picked in autumn and winter) produced in Shizuoka Prefecture, therefore, you can taste original sweetness of green tea. In addition, this green tea is sterilized before grinding and tested bacteria before the shipment. Safety with security is our top priority.
*the first tea leaves / first plucked tea (e.g. first flush tea and second flush tea).
Recently, plastic bottle green tea with strong roasting aroma has been very popular and people forget about a real green tea which originally has sweet and umami flavors. It is getting fewer opportunities even for us, who were born in Shizuoka which is a famous prefecture of producing green tea, to drink a cup of green tea from a teapot.
Umami a savory taste, is one of the five basic tastes after salt, sweet, sour and bitte.
Plastic bottle tea is generally made from a cheap shutobancha (tea leaves picked in autumn and winter), it does not support an increase in sales for tea farmers.
As sales decrease for tea farmers, each region will be less active, which may cause an increase in number of farmers giving up farming.
If we drink a cup of delicious green tea in everyday life, we will drink at home as well. We believe this will increase in consumption of green tea
Feature of tea supply machine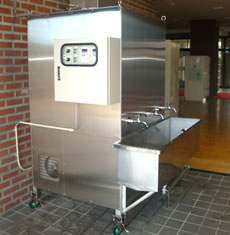 [ Patent granted ]
Power voltage is 100V. (Available in the electric outlet)
Automatic water supply and stop available by pushing switches.
Automatic cooling at 8°C ~ 10°C (Temperature of difficult for bacteria to grow and easy for us to drink)
When the tap water is cold, possible to warm up.
Homogenizing green tea by a stirring device
Means of the net basket to store the tea powder and the water injection nozzle in order to dissolve the tea powder easily.
Consideration to the structure to keep away the dirt and bacteria to enter from outside.
Means of soundproof and a consideration to the safety to keep the maintenance.
Basic specifications
| | |
| --- | --- |
| Net volume | 50L type |
| | 100L type |
| | 200L type |
About green tea leaves
We use locally produced tea leaves. We perform the sterilization at a high temperature steam and powder it to a fine powder in the clean room.

Usually, the tea powder selling on the market is from 20 to 30 microns particle. Our tea powder is more finer at 8 microns particle, therefore, it is floating without precipitation in the bottom of tank. It is easy to clean after use.
In general, a concentration of the amount of green tea powder in a plastic bottle green tea, selling on the market. is 1%.
We use green tea leaves, 150g of sterilized powder (8 micron particles), to make 200L of sweet flavored cold green tea with rich aroma.
Since our motto is to consume locally produced products, we suggest our customers who reside outside of Shizuoka prefecture to use the green tea leaves produced in their region. We are happy to introduce our business partners to make it into the green tea powder.
Of course, we offer our green tea leaves to the customers who can't find their locally produced tea.
The benefit of introducing the tea supply machine
From a new editioneThe function of teaf
Inhibition of carcinogen
Prevention of obesity, suppression of diabetes, suppression of arteriosclerosis by caffeine and catechin.
It is said effective in hyperlipidemia, stroke, hypertension, cardiovascular disease, and others diseases such as liver disease.
Action to block the adsorption of the influenza virus to cells.
Introduction track record of the tea supply machine

Several elementary schools and junior high schools in Shimada-shi,
Care facility for the elderly in Kikugawa-shi, Shizuoka-ken (100L type)