Company Profile
Trade name
Aoshima Reitou Kogyo Co., Ltd.
Aoshima System Engineering Co., Ltd.
Foundation
20 November 1952
1 July 1997
Capital
20,000,000 YEN
10,000,000 YEN
Head Office
1800-1 Sangamyo, Yaizu-shi, Shizuoka-ken 425-0072
1800-1 Sangamyo, Yaizu-shi, Shizuoka-ken 425-0072
TEL
+81-(0)54-629-0225
+81-(0)54-629-0221
FAX
+81-(0)54-628-7646
+81-(0)54-628-7646
CEO
Koichiro Aoshima
Yasuhiro Aoshima
Licence/Membership
Construction license issued by Governor (Special Construction License) No.2896

High Pressure Gas Sales Agent

High Voltage Machine Manufacturer

Member of Shizuoka Refrigeration and Air Conditioning Industry Association

Member of JARAC (Japan Association of Regrigeration and Air-Conditioning Contractors)

Member of Shizuoka Freon recovery Business Association
Main Bank
The Shizuoka Bank · Yaizu Shinkin Bank · JA Bank Oigawa
Bank of Tokyo-Mitsubishi UFJ · Yaizu Shinkin Bank
Business
Freeze · Refrigeration · Cold chain
Air conditioning · Water supply and drainage sanitary facility ·
Industrial equipment
Agribusiness
Clean room corresponding HACCP · GMP · CONVERTECH
Clean booth factory refurbishment · Flow line design · Utility design
Thermal storage cooling device for food industry · Ice thermal storage cooling device ·
Aging room · Constant temperature and humidity · Differential pressure suction convection system
Dehumidification drying · Differential pressure thawing · Rapid freezing · Ultra-low temperature system
Original air shower design · construction
Building air-conditioning · factory air-conditioning · Supply and exhaust dust collecting ventilation system
Large dust, pre, mid-performance, HEPA, ULPA filter distribution
Remote logging management system · Maintenance
Companyfs Basic Policy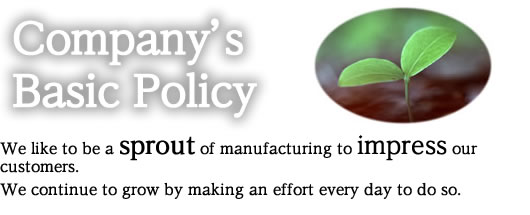 We conduct trustworthy and fair business, keep a good relationship with the society and look forward a sustainable development of our company. Therefore, we respect the basic policy shown as below for the guideline of daily business operation.
Innovation
· The innovation of business management and technology, to meet the needs of times with a comprehensive wide vision.
Customer-oriented
· We do research on cost reduction, time reduction, output quality, and perform them for the customer value creation. We offer total solutions to meet customers' satisfaction at most which leads to success through the customer value creation.
Compliance
· We comply regulatory requirements such as local environmental basic regulations and laws related to the environment and strive to improve environmental conservation.
· We comply laws · Regulations and respect ethics about the design construction and safety · quality.
· We will act with a social conscience. We will not commit any illegal activities nor behave without transparency to seek for the profit by unfair means.
@We do our best to prevent any kind of crisis in advance, which may cause a serious impact on the management, and settle an emergency situation as soon as possible if occured.