Purpose and function of sanitary room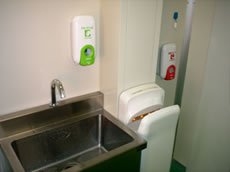 The purpose of the sanitary room is to execute the maximum of self-cleaning in advance and motivate workers to check and keep clean their working uniforms, hair and personal belongings to prevent bringing contamination in the clean room by them.
As equipment function, it consists of locker, duckboard, hand wash basin, alcohol disinfection unit, jet towel (hand dryer), roller, full-length mirror, shoe box, foot washing pit and air shower.
There are cases to install a clothes dryer to the sanitary room and to have a two-stage shoe rack with sheet laying design depending on the work situation. Also, there is a factory who considers a sanitary room itself as a sub clean specification with a positive air pressure. In a rare case, simply divide a dirty zone by a booth partition.
In response to the level of clean room, the specification of sanitary room will be decided. The purpose of installation both a clean room and a sanitary room are the same.
The issue is to ensure the operation manual and the sense of purpose. We will show you some examples as the following.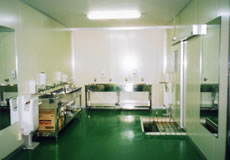 Hand washing is done by an automatic water washing, hand drying by a jet towel, an air shower door opens automatically and you are led to a clean room, which is a general methods now a days.
However, you believe to have achieved your target to have a sanitary room with an automatic sanitary system like this?
There was an accident occurred at a factory manufacturing retort pouch food that foreign substances such as something like pulp was found mixed into products so they had to recall all products.
According to the investigation result, a foreign substance was a part of tissue paper. Furthermore details, a worker blew his/her nose before entering the sanitary room and put in his/her pocket, however a part out of pocket was not eliminated by the air shower system and came together with him/her into the clean room. This happened unexpectedly early in the morning workflow when entering the sanitary room without checking himself/herself carefully.
This company made improvements as the following.
1.Changed working uniforms without pockets.
2.Clean working uniforms by adhesive roller thoroughly in pair, check in a full-length mirror, then move on to hand washing.
3.Capability of air shower HEPA filter was increased for the smooth process in a short time.
4.Alcohol washing after entering the room
In another factory, they focus more on cleaning by the adhesive roller rather than the air shower and improved the shape of roller and the quality of the adhesive mat. It is the most important to have a sense of purpose not to bring foreign substances in the room by humans and also to shut out dust and insects in the air entering along with humans.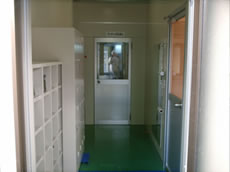 Some more examples as other important notes.
Sanitary room tends to be damp in general and must be paid attention usually the dehumidification management. It is important for the sanitary room not to be a mold source.
Is the inside of drain tank is cleaned although a hand dryer (jet towel) is a disinfection system in theory?
Are floor drain tubes in the sanitary room cleaned? Are the floor coating checked if peeling off or not? (Coating material can be food for the mold)
Are there any deposition of foreign substances in the ceiling space of sanitary booth, in the space between outer and inner walls or in the floor baseboard gap?
Are all of air shower, pre-filter and HEPA filter cleaned and exchanged regularly?
A blowing louver generally keeps a wind speed of 20 ~ 25m / s. Although, it will not eliminate hair attaching on the surface of the body, the amount of air flow will get drastically reduced when the filter is clogged.