2015/03/01
Our article was published in Journal of the Gas Turbine Society of Japan.(PDF file: Only in Japanese)
2009/08/12
Since expansion project of our head office was completed, Fujieda office was moved to the head office.
2009/01/15
Our article - Verification based on the actual data, the possibility of high efficiency of VOC treatment system to achieve cogeneration + reduction of CO2 emissions at the same time –
was puslished in technology journal "ConverTech" ( issued by Converting Technical Institute).
The sequel will be published in the issue of February.
2009/01/10
Added some case study of energy conservation• CO2 reduction measures.
2008/05/02
Our homepage was renewed.
2008/02/01
Aoshima System Engineering Co., Ltd. opened its Fujieda office.

IPCC (Intergovernmental Panel on Climate Change) report (announced in November 2007)
There was a warning on global warming. "If we do not take strong measures upcoming 20 to 30 years, it may cause irreparable harm"
According to an IPCC report, if global warming continues by the increase of greenhouse gases such as CO2, the temperature of the seawater will be increased.
The sea absorbs CO2 but will release it to the atmosphere according to the sea temperature rise.
As result, like a vicious cycle, this causes an increase of the amount of CO2 in the atmosphere, which will even make sea temperature rise.
Thus, it increases the amount of CO2 in the atmosphere, so that sea temperatures becomes a vicious cycle rise
Siberian tundra has been melting and the methane gas underground which has 21 times more greenhouse effect than CO2 is released into the air. Furthermore, ice sheet melts which causes a vicious cycle.
According to Kyoto Protocol, Japan is required to reduce emissions of greenhouse gasses* by 6% from 2006 to 2012 in comparison of the year of 1900.

* Carbon dioxide (CO2) accounts about 88 percent of greenhouse gas.(6 types: CO2, methane, N2O and 3 other gasses such as substitute CFC)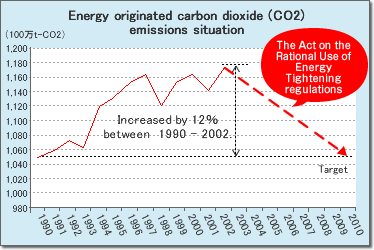 (1)Investigation of the status of energy usage
Electricity, steam, water, fuel, etc
The entire factory, facility each, department unit each.

(2)Grasp of actual running situation
Facility unit, department unit
Hour, Day, Month, Year unit

(3)Investigation of energy circulation
Steam, · Water · Heat · Light · Etc

(4)Customersf potential needs